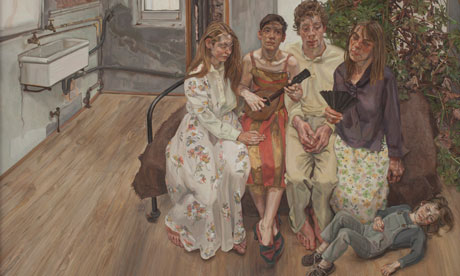 Detail from Freud's Large Interior, W11 (after Watteau).
Image from
The Guardian
If you haven't been yet you ought to go soon! The exhibition has already received over 50,000 visitors and will be open until 27 May, but watch out, it is selling out daily. The good news is the NPG is extending opening hours - it is now open until 9pm on Thursdays, Fridays and Saturdays.
This is a unique opportunity to see 130 paintings/drawings loaned from various museums and private collectors - which the artist helped curate before dying in July 2011.
Look out for an unfinished work (Portrait of the Hound), through which you will understand Freud's technique better.