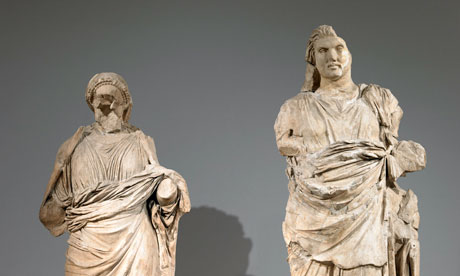 One more interesting twist in the campaigns for the repatriation of artefacts removed from their original contexts, perhaps the most interesting one in recent times. Campaigners are now going to European court in attempt to repatriate artefacts created for the Mausoleum of Halicarnassus:

"Human rights legislation tha
t has overturned the convictions of terrorists and rapists could now rob the British Museum of sculptures created for one of the seven wonders of the ancient world.
A Turkish challenge in the European court of human rights will be a test case for the repatriation of art from one nation to another, a potential disaster for the world's museums.
Despite criticism of their own country's human rights record, Turkish campaigners are turning to human rights law – a dramatic move to reclaim sculptures that once adorned the Mausoleum of Halicarnassus, an ancient wonder along with sites such as the hanging gardens of Babylon and Egypt's pyramids. Greek sculptors in 350BC created a 40-metre-high monument, crowned by a colossal four-horse chariot on a stepped pyramid. A magnificent horse's head is among sculptures acquired by the British Museum in the mid-19th century, which campaigners want returned to their original site – Bodrum in south-west Turkey."